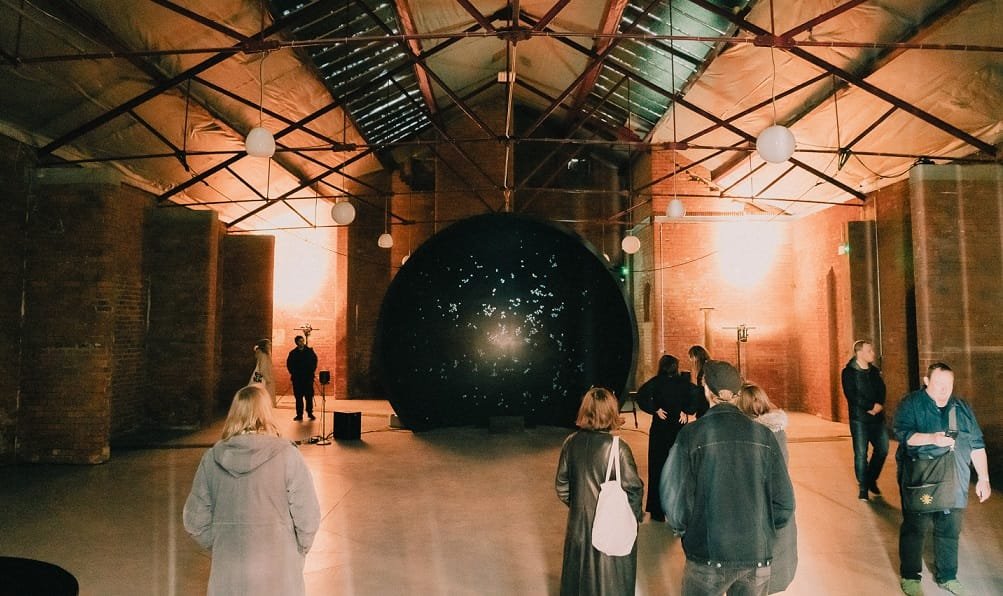 Exploring the contributions of artist-researcher, curator and practice-based research in stimulating public dialogues through site-specific art installations and how notions of place are vital in shaping these new narratives.
In this blog, Amy Carter Gordon and David Cotterrell reflect on a pilot collaboration between Sheffield Hallam University and No Bounds - a critically acclaimed independent electronic music, art and new technology festival.
Through a series of iterative conversations, synergies were explored between the Culture and Creativity Research Institute and the festival in pursuit of developing new audiences for research and increasing engagement in the artistic aspects of the No Bounds programme. A partnership with artistic director of the festival, Liam O'Shea, coalesced around the creation of a series of immersive exhibitions in starkly different locations in the city: Moore St working electrical substation, owned and managed by National Grid and the G Mill owned by Sheffield and District African Caribbean Community Association (SADACCA) in one of the key gateways to the city, The Wicker.
Speaking to notions of places and identity and seeking to add new layers and contextual dimensions to a festival steeped in the heritage, landscape and soundtrack of Sheffield: a post-industrial city famed for its Brutalist architecture, three new installations were curated and produced by Carter Gordon to provide a complementary counterpoint to the intensity of the festival schedule. Mythical Living Data by early career researcher, Noemie Soula and collaborator Matteo Bandi at Moore St substation and 196.85 ml/hr by Prof. Lise Autogena and collaborator Joshua Portway and God's Eye View IV (Conflict) by Prof. David Cotterrell  and his collaborator Dr. Shelly Knotts at the G Mill invited publics to access seldom-used or accessed architecture to viscerally interact with collaborations between artists and audio producers, informed by the psychogeography of a rapidly changing cityscape. As Sheffield came to life with performances, club-nights and raves, these liminal urban spaces attracted curious music lovers, local residents, community activists, academics and students…and set a precedent for a University actively contemplating its role within its civic space.
In some ways this shouldn't feel like a novel collaboration. Sheffield Hallam University is a huge institution tracing its roots back to its foundation as the Sheffield School of Design in 1843. It has always been a site of cultural production, it has grown from the culture of the city, and for more than a century and a half has contributed to the city's population of makers and creators and shared in its claim for cultural vitality through jewellery, industrial design, fine art and film.
The reason for the pertinence of this account is that it reflects on a small initiative that was indicative of a new approach and a renewed engagement between the University and its cultural context. Within the frame of a recently formed research organisation (Culture & Creativity Research Institute), new appointments and an openness to developing new partnerships, Amy Carter Gordon explored a speculative model of co-curation between the University, public utilities and vibrant third-sector partners. Perhaps, the most unusual aspect of this initiative is that within Sheffield Hallam University, Amy Carter Gordon's role is not described as 'curator' but instead, as Innovation Manager with a remit for Knowledge Exchange.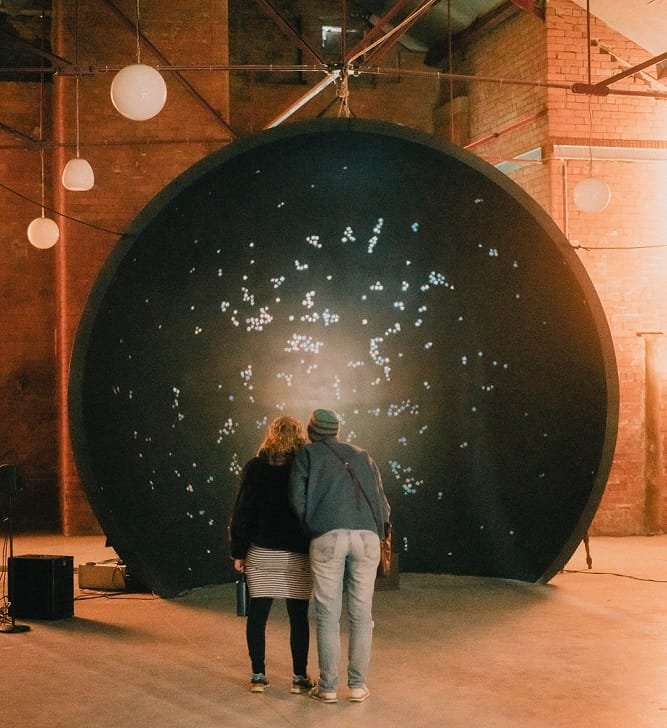 'Knowledge Exchange' as a term has been used within academic institutions with varying levels of understanding. Often assumed to be the academy sharing its knowledge with non-academic recipients (most commonly through consultancy, commercialisation, startups and other forms of IP exploitation), it is in fact a two-way flow of sharing and learning. In this case, knowledge exchange occurred in much less transactional, more creative, bilateral and unexpected forms. The presentation of one of the installations, 'God's Eye View' fell within this ambiguous space. The curated participation within an independent festival hypothecated a porosity between the enquiry that is returned as research and the work that exists as practice.
In this case, the external frame created uncertainty. The relationships were new and provided for critical and reflective challenges for the development of the work and public engagement with it. The sector-crossing macro-relationship between University and festival, was mirrored by the micro-collaboration of the artist/academic David Cotterrell and the sound artist/composer Shelly Knotts. Negotiation of disparate languages, methods and references create friction and opportunity. Both participants had to find a meeting point, while maintaining their own feeling of ownership of their voice. The resolution of this negotiation of common purpose then had to emerge with awareness of the constraints and advantages of an unfamiliar physical environment. And most importantly, through an engagement with the complexity of broad public audiences that included Sheffield citizens, national press, music journalists, public sector workers, academics, students, ravers, together with the multi-generational constituents of SADACCA: The senior citizen dominoes group, teen boxing club members, wedding planners and activists.
The work that was realised was a modest temporary addition to a community organisation's fifty-year history. It provided a novel parallel provocation within an established festival of electronic music, and it appeared as a small entry within the University's KE annual report. Against the metrics of economic growth, business incubation, career opportunities or even access to education, it may not be highly visible.
But it had impact: On the artists. It stimulated a new point of critical reflection. It allowed the realisation of a highly experimental project and facilitated learning within their own, and about each other's, practices. For the University, it strengthened relationships with an extraordinary community organisation and with an established, yet continuously evolving, international festival. The relationships were justified through the delivery of an event, but their value will be measured by the understanding that may lead to future, deeper collaborative endeavours. For the University, sometimes appearing to be consumed by the metrics of NSS, REF, KEF & TEF, it provides an additional opportunity to consider how it may be perceived from beyond its own organisational perspectives. For the city that gives meaning and context to the University, it offers a new point of access, to engage with the academy as a diverse community of practice as well as an institutional neighbour.
In terms of Knowledge Exchange, it offered an interesting additional precedent for the way in which our University might choose to understand and translate the term.
_______________________
Authors: Prof. David Cotterrell, Professor of Fine Art, Art, Design & Media Research Centre and Director of the Culture and Creativity Research Institute and Amy Carter Gordon, Innovation Manager, Culture and Creativity Research Institute and Guest Curator, No Bounds Festival.
Photo credit: Matt Bell Photography
Description 'God's Eye View IV (Conflict) David Cotterrell and Shelly Knotts