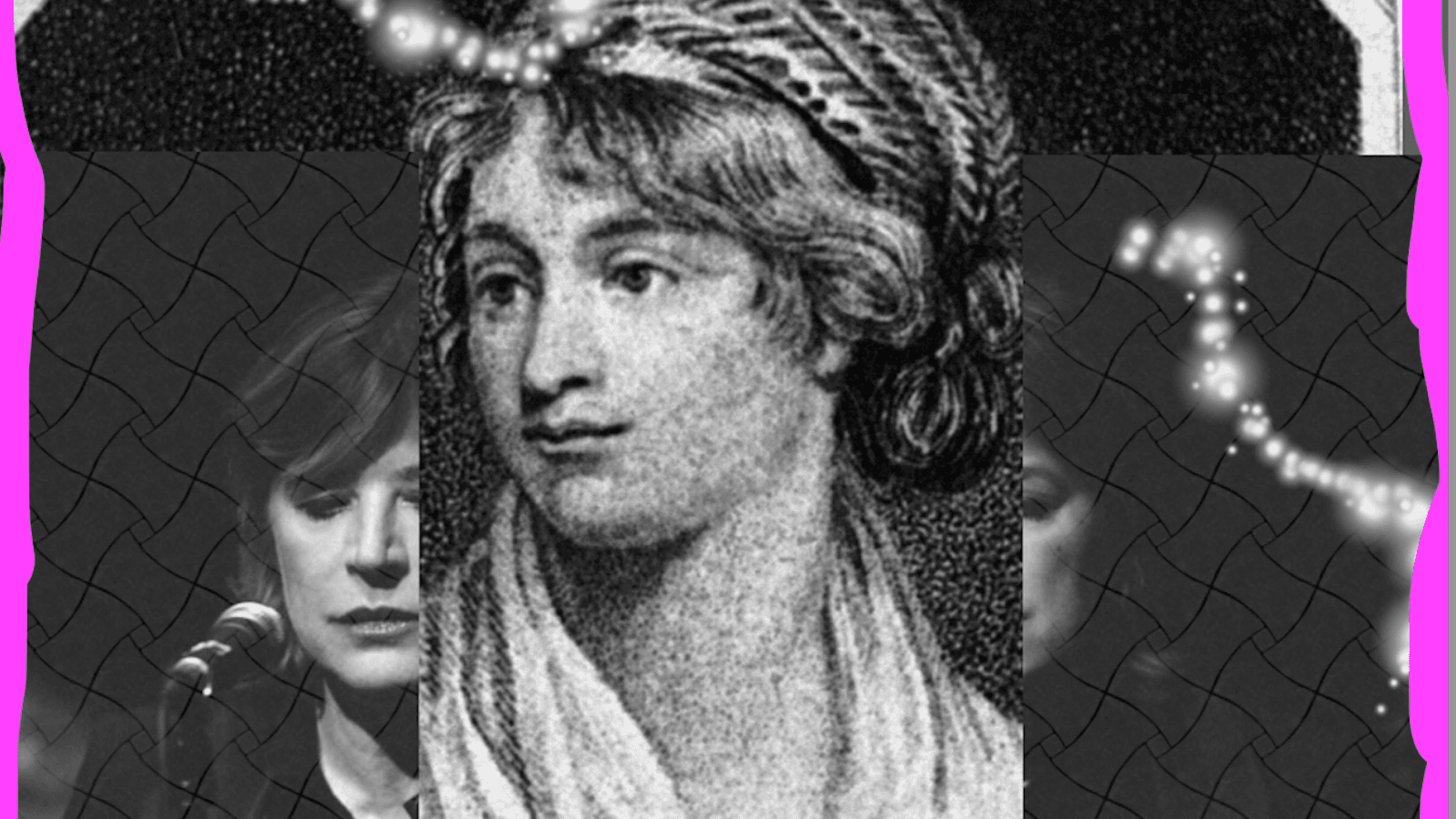 When we saw the callout for the Birkbeck Centre for Contemporary Theatre Fellowship, we thought it could be an opportunity to attempt something entirely different from what we've made before. We both work largely in theatre, as writers, directors and dramaturgs, but have an interest in experimenting with work that includes performance, but could be presented in a gallery setting. The original prompts for the 2021-2022 Fellowship were 'recovering and resilience', which got us thinking about how women, particularly female artists, recover and what their resilience might entail. 
In our first brainstorming session, we found that resilience and recovery are historically linked to the lives of many female artists. We became interested in the root cause of the need for resilience and recovery. Women have had to be resilient in order to continue to make work, despite restrictions on their freedom of expression, ability to produce, publish or have a platform for their work, and despite the pressures on them in terms of access, unequal pay and caring duties. When we went deeper into these stories, we also discovered even more stringent barriers to making work, such as rejection, harassment, censorship (industrial, social, political) and even threats to their very lives. We came to feel that resilience is something that is often thrust onto women, that we are obliged to be resilient because we are expected to function in a system with rules and laws designed by and for men. 
We have used the work and lives of Mary Wollstonecraft and Marianne Faithfull as a starting point. We read a dual biography of Wollstonecraft and her daughter Mary Shelley Romantic Outlaws by Charlotte Gordon and also came across an interview with Faithfull in The Guardian from 2021. We were struck by how–despite being born nearly 200 years apart–the two women faced numerous barriers in terms of gaining recognition for their work and being able to live independent, happy lives. Wollstonecraft was in such despair at how difficult it was to live as an unmarried female writer in British society that she attempted suicide. Faithfull was blocked from pursuing a career as a singer/songwriter, and instead was branded as Mick Jagger's muse, the iconic 60s groupie; she nearly succumbed to a drug overdose. For instance, although she originally sang 'Sister Morphine', the best-known version is the Rolling Stones' cover. The theme of men covering songs originally sung and/or written by women and popularising that song with that version is a common one.
Inspiration
These stories led us to investigate other artists who have been censored, repressed, silenced, de-platformed or erased. The reasons for censorship and silencing are varied, have different faces and come from many different sources of power, from the creative industries to governments. We have been particularly interested in artists outside the theatrical realm because we wanted to use this opportunity to expand our own artistic practice. This project is also a chance for us as artists to explore different disciplines such as live performance, video, audio and photography, and investigate how/if/where they can be combined.
We came across the stories of many women whose resilience and recovery inspired us. For example, in her book Building for Hope, architect Marwa Al-Sabouni examines how influential the architecture and layout of a city are in our everyday lives. She remained in Homs during the Syrian civil war with her family, where she ran an architecture studio with her husband that was completely destroyed. Her work made us think more deeply about the connections between gender, architecture and conflict. Janet Jackson's accidental wardrobe malfunction at the 2004 Super Bowl came up in our research, how she was wrongly accused of staging a publicity stunt and how this resulted in her effectively being blacklisted from the music industry for many years afterward. This incident brought up issues of misogyny, paranoia and body-shaming. The story of Afghani actress Zarmina Faqeer led us to examine the links between political/governmental and personal censorship; her extraordinary story can be read in this New Yorker article. 
Development of ideas
As we researched censorship and silencing of women's work and voices, the theme of the censorship of women's bodies cropped up continually. In 2015, the poet Rupi Kaur posted a photo of herself on Instagram which showed her lying on a bed, in pain, her underwear visibly bloodstained. Instagram took the photo down, inciting anger and resistance across communities of women, many of whom had been censored already for posting photos of breastfeeding, body hair and other bodily images deemed to be obscene or grotesque. These stories started to make us think about our contemporary understanding of the (re)presentation of female bodies in popular culture and social media. It also led us to investigate further into the relationship between women's achievements and their bodies; whether in politics, sports or creative sectors, the woman's body still determines the level of success and recognition (or the lack thereof), often providing a basis for public discussion of that woman and her work. 
Our thinking around women's bodies has been reinforced by the recent threat of the reversal of Roe vs Wade in the United States and has made us think further about the significance of the perception of women's bodies. The monstrous body, the censored body, the woman with no rights to her own body, woman-as-corpse. How do we find ourselves fighting the same battles for autonomy and expression again and again? 
We thought of Mary Wollstonecraft's daughter, Mary Shelley and her monster in Frankenstein. We wondered where this monster came from. Was it a piecing together of parts to attempt to create the perfect artificial human? Was it about the failure to create the perfect body? The inability of man to create the perfect, polished mind, complete with infallible ethics? Or perhaps a reflection of her own experience as a woman writer, that the woman is both the monster's creator and the monster itself. 
Moving forward
For our presentation at Birkbeck Arts Week on 20 May 2022, we both responded to our research sessions in different ways. Sarah wrote a monologue that was recorded by actress Maeve Ryan giving the audience an intimate audio experience. Katharina made a short experimental film. Both of these works processed our findings and represented a starting point to explore different media. You can listen to the monologue here and watch the film here. 
This presentation was useful in gaining input and feedback from the audience, helping us to develop our ideas relating to both the content and form of the project. We have also found our mentoring and development sessions with Dr Seda Ilter (Lecturer in Theatre and Performance at Birkbeck) to be useful, supportive and enlightening. 
Eventually, with this project, we want to uncover, recover and discover work by a wide range of female artists. We will find ways of resisting a white, eurocentric, western gaze to create a collage of stories that will inspire and encourage audiences to dig deeper and understand the patriarchal structures that silence the work of women.
We are also aiming to extend our skills into other disciplines and learn from fellow artists to expand our practice. We want to create a 'living installation' - a mix of installation, audio, visual and live performative elements, giving audiences a chance to engage with this work in different ways. We imagine it to take place in a gallery or community setting, open to the public, creating an open environment for engagement and discussion. 
We hope 'Mary/Marianne' will be a project that will encourage audiences to reflect on the ways in which women have and continue to be censored, intellectually and physically, and how we as a society can develop tools for liberation.