In this blog post, hear from SAIL, a membership network of creative and cultural organisations in West Yorkshire, about how they're working collectively to exchange research, build capacity, and advocate for sector-wide solutions, in order to accelerate action on climate change.
At SAIL, we unite creative and cultural organisations, individuals, creative curriculum education providers and local authorities behind a common goal to create a sustainable and resilient future for the sector of West Yorkshire. Operating as a membership network, we aim to speak with one voice, acting on our collective strength to enable, educate, and inspire climate action amongst our members and their audiences.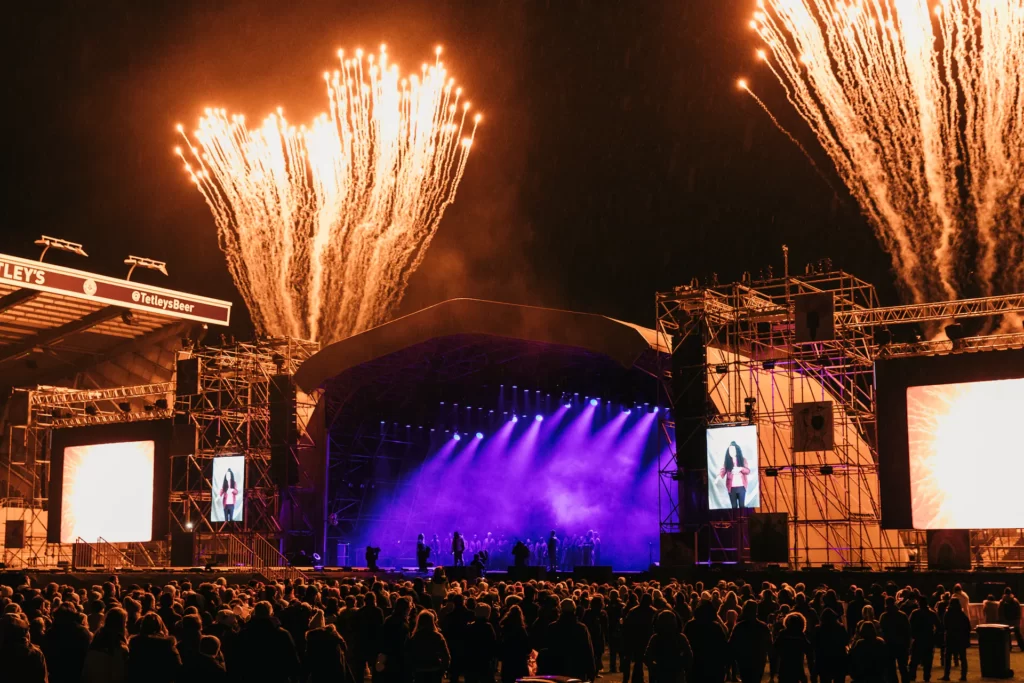 SAIL Member LEEDS 2023's 'The Awakening'. Image courtesy of LEEDS 2023; photo © Tom Joy
SAIL's focus areas include enabling our sector to reduce its environmental sustainability impact through practical support activities; advocating on behalf of our members for broader cultural, political changes and infrastructure and solution development, such as increased low-carbon transport provision and the development of circularity solutions; and supporting our members to communicate effectively to audiences about the climate crisis.
At the heart of SAIL's mission is knowledge exchange. With strong ties to the creative and cultural sector, the research community and education providers, SAIL occupies a unique position to bridge the gap between these groups: to facilitate collaboration, pilot projects, test theories and ideas, unite stakeholders behind common goals and accelerates progress.
In 2022, SAIL established a Knowledge Exchange Partnership with Leeds Arts University. This partnership focuses on equipping students and graduates with the skills and experience to integrate sustainability into their creative practices and future careers. SAIL provides support through initiatives like Carbon Literacy Training (CLT) and collaborative projects with SAIL members, fostering a sustainable mindset in the next generation of creatives. This project is now being expanded to other creative curriculum providers within West Yorkshire to ensure all students have access to similar opportunities.
A key strand of SAIL's work is to ensure that climate storytelling surfacing from the creative and cultural sector of West Yorkshire is high quality, engaged content that results in audiences feeling engaged and empowered to take climate action as a result.
As part of the XR Stories Climate Change Challenge, alongside technical partner Megaverse, SAIL produced 'Home Planet', a proof-of-concept VR experience testing the theory that immersive forms of communication are particularly powerful in creating emotional responses to climate change. Reflections from this project subsequently fed into the XR Stories funded R&D project, 'Sustainability Stories: Investigating the UK creative industry and the communication of sustainability', a research project by Dr Alexandra Dales and Dr Gemma Bridge at York St John University and Dr Rory Padfield at the University of Leeds. The project aims to explore how creative and cultural sector actors can communicate sustainability transformations through creative storytelling in order to engage policy makers, consumers and key stakeholders.
SAIL presenting at Leeds Arts University's Creative Networks: Sustainability in the arts event | Photo © Laurelle Kamara
As a result of this project, SAIL is now developing a best practice guide for the effective communication of climate through storytelling, which will be disseminated through our education partners and membership network of organisations and individuals. By translating research findings into actionable insights, SAIL is empowering the creative community to empower their audiences, creating a community of active, empowered and knowledgeable citizens.
SAIL's vision to create a localised ecosystem of sustainability in the creative and cultural sector is gaining momentum. Through knowledge exchange, collaborative partnerships, and a relentless pursuit of innovative solutions, SAIL is at the forefront of driving positive change. By empowering individuals, educating communities, and inspiring the wider public, SAIL is building a resilient future where creativity thrives hand-in-hand with sustainability.
Website: https://wearesail.org/
Socials: Instagram / Twitter / LinkedIn