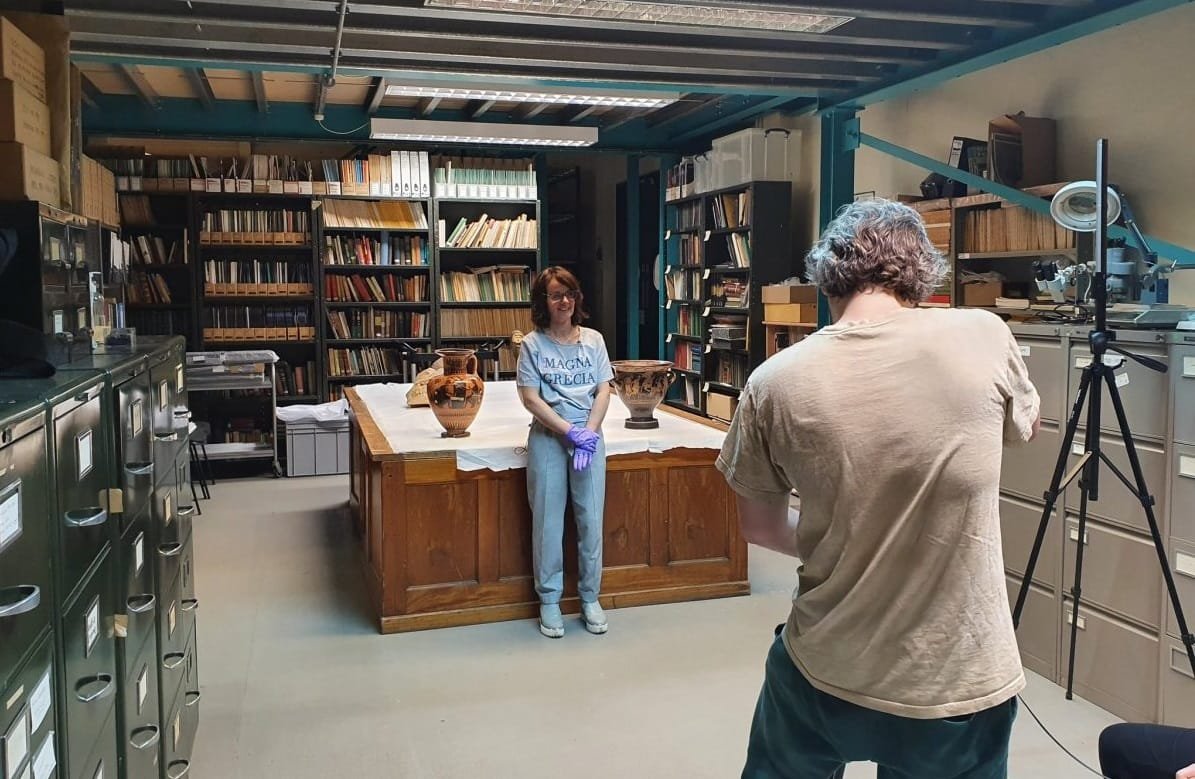 The Advocating Classics Education (ACE) project seeks to improve access to the study of Classical Civilisation and Ancient History by working in partnership with Liverpool World Museum (LWM) and OCR examination board, and alongside the Cambridge Museum of Classical Archaeology (MOCA) as a collaborator, to provide subject knowledge enhancement training for teachers, curriculum-linked support materials, gallery trails and workshops for teachers and students which deepen the impact of studying the ancient world and engage new audiences. Today, only a fraction -around 10%- of Britain's teenagers have access to the study of the Greeks and Romans at school, and the majority of these are in the independent sector. Our project with MOCA focuses on the mental well-being of young people in the community and this approach has offered an inclusive pathway to engaging new audiences of teenagers, whose schools do not currently offer Classical subjects.
Studying ancient Greek and Roman civilisation, history, thought, literature, art and archaeology is not only exciting and instructive, but confers profound advantages: it hones analytical and critical skills, trains minds in the comparative use of different types of evidence, introduces young people to the finest oratory and skills in argumentation and communication, enhances cultural literacy, refines consciousness of cultural difference and relativism, fosters awareness of a three-millennia long past, along with models and ideals of democracy, and develops identities founded in citizenship on the national, European and cosmopolitan, global level.
This phase of the ACE project, supported with follow-on funding from AHRC, has focussed on improving access to Classical Studies in museums and schools, particularly in regions of the UK facing Classics poverty. This has involved forging connections and engaging in knowledge exchange with several cultural institutions.
In one facet of the project, we have partnered with National Museums Liverpool to create three interactive sourcebooks, linked to the OCR Classical Civilisation GCSE and A Level qualifications. These include Greek and Roman artefacts from Liverpool World Museum's impressive collections.
The interactive sourcebooks include learning activities, videos, simulations, 3D scans and close-ups of objects. They can be used flexibly as revision material of important topics, for teaching beyond the curriculum, or to complement the sources prescribed by OCR.
The modules covered are GCSE Myth and Religion; A-Level Greek Art; and A-Level Love and Relationships.
As part of the process of making the sourcebooks, ACE visited the National Museums Liverpool collections to film a series of short videos. The opportunity to get so close to such incredible artefacts was electrifying, and underlined the unique power that museums have to make the ancient world tangible.
Dr Chrissy Partheni, the museum's Curator of Classical Antiquities, was on-hand to guide us through the museum's impressive collection and discuss the objects' significance. Highlights included a black-figure amphora depicting Ajax and Achilles playing dice, and a Roman ash chest dedicated by C. Minicius Gelasinus – to himself! Filming was expertly handled by local film company Half Cut.
Our hope is that students using the digital sourcebooks will be inspired to visit the Classical collections held in Liverpool. Because they are digital, the sourcebooks will also widen access to Liverpool's collections for everybody, regardless of where they live in the UK.
The sourcebooks were produced by Dr Peter Swallow (KCL/ACE) and Dr Chrissy Partheni (Curator at National Museums Liverpool), with contributions from Dr Arlene Holmes-Henderson (KCL/ACE), Hardeep Dhindsa (KCL) and Dr Gina Muskett (University of Liverpool). Knowledge exchange between the Higher Education and cultural sectors has helped us to shape the final products into user-friendly, relevant learning resources for teachers to access.
You can try out the digital sourcebooks for yourself here. To enjoy all features optimally, we suggest accessing the sourcebooks using a computer rather than a mobile device.
For more information about the project, visit www.aceclassics.org.uk and follow us on twitter at @classcivanchist @drarlenehh
Image credit: Peter Swallow