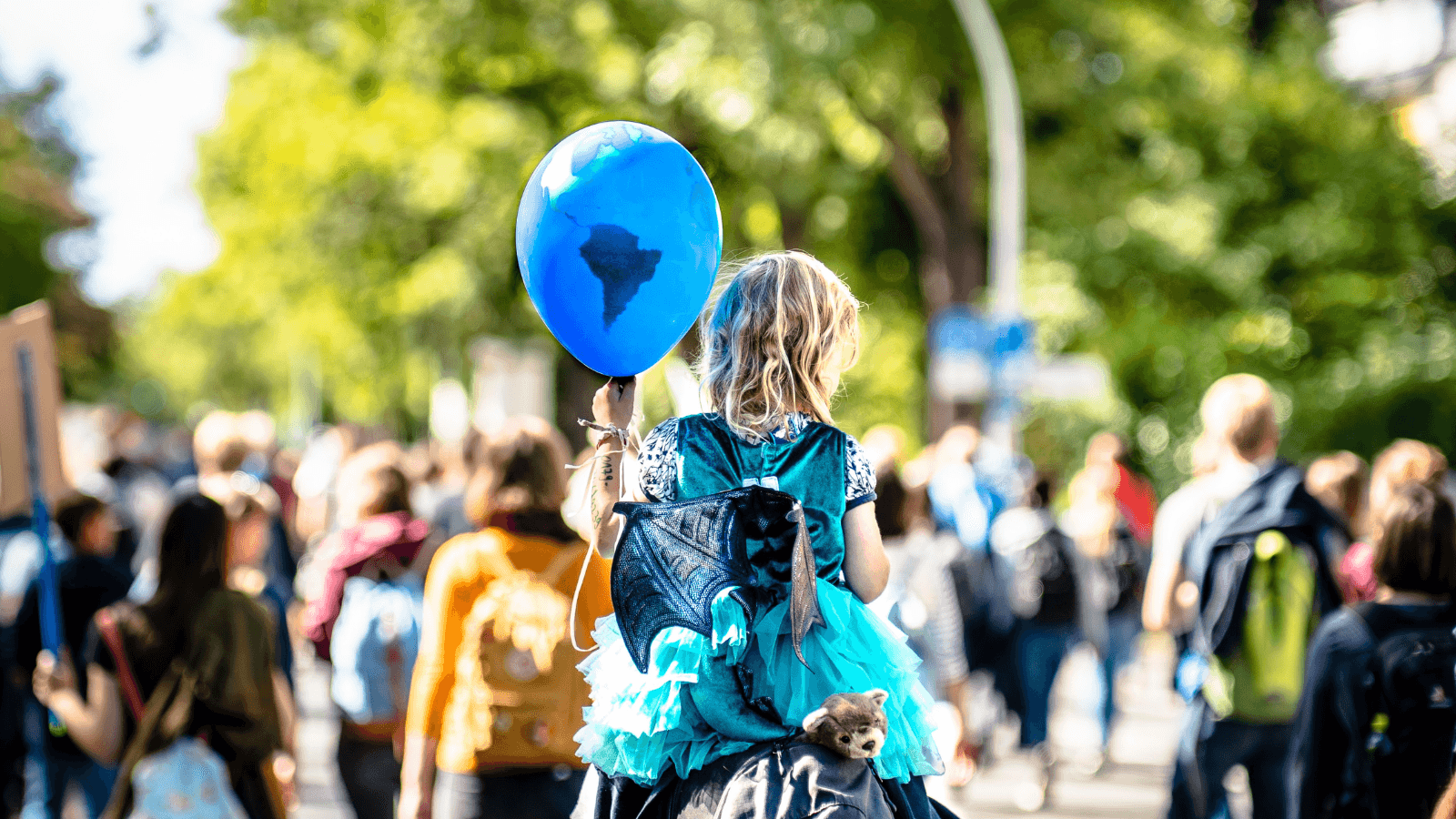 The NCACE event Culture and Collaborations on Climate Emergency brought together a community of artists, poets, writers, academics, local authority officers, actors, community activists and cultural practitioners to highlight the role of collaborative initiatives with a focus on climate emergency, climate justice, net zero and community action. In the face of a panoply of seemingly insurmountable challenges, hope emerged as an unexpected yet common theme of these conversations.
The event was opened by Professor Ann Light, who reflected on CreaTures – an initiative funded by HORIZON2020 that is bringing together arts organisations and researchers and supporting collaborations between diverse practices through 'participative intimacies' and direct engagement. CreaTures has examined common practices towards sustainability and created insights that allow projects to increase efficacy and demonstrate to policy-makers that there is merit in creative work which evolves collaboratively over time and promotes mutual care and agency. Projects supported by CreaTures include the Treaty of Finsbury Park 2025, which is currently in situ.
The overarching themes that came through in all of the discussions that followed were about community, hope, agency and a deliberate acknowledgement of the climate emergency as a symptom of entrenched systemic inequalities which permeate across all sections of our global society. 
Community
In the first panel discussion 'Climate research, creative methods and culture shifts in community contexts' we heard about the importance of engaging local communities in hopeful processes of regeneration and co-creation of ideas. Dr Ria Dunkley spoke of her work mapping local environmental histories along the river Clyde, which involved collaboration with the local community and artists within it, to log an interactive record of how climate change has affected this area. Sian Moxon and Andrew Bedford then spoke about Rewild my Street with London Met Lab, and the progressive action underway in the borough of Islington to reintroduce green spaces and natural habitats to one of London's most densely populated and deprived areas. Only 12% of the borough is green space, and it's in the top six of Greater London boroughs most at risk of heat damage and flooding. Islington Greener Together invites residents to submit plans for re-greening their private and local spaces, providing some funding to help manifest these ideas. 
Hope
Finding ways to move beyond prevalent disaster narratives in order to deal with the situation we find ourselves in, was the theme which came through in Katie Vanden's presentation about Cap-a-Pie theatre's project Climate Change Catastrophe. Climate-change anxiety, or trauma, is sharply on the rise amongst young people who feel they have no agency or solutions in the face of such devastation. Climate Change Catastrophe was a collaborative performance (and subsequent film) that brought together engineers from Newcastle University and local school children, to both listen to and inform the children about what is being done to mitigate the climate crisis, giving them more agency and faith in their own ideas. As one young child in the film remarked "we should put plants on the roofs and walls of houses - who says no to plants?!".
The role of hope and community in imagining alternative presents and better futures was also examined by Dr David Sargeant, speaking about the Devon Climate Emergency project Net Zero Visions. This collaborative project has challenged the main trope of climate fiction (Cli-Fi) which either considers the individual or the global whilst 'neglecting stories and images that help us to imagine our communities, region and even country in new ways.' By connecting local artists, muralists and animators to the local population, Net Zero Visions is harnessing the power of imagination in enabling change. Following two workshops in 2021, 'Visions' are now being created by commissioned professionals in collaboration with 38 local councils, 3 environmental organisations, 3 research institutions, 3 health organisations, 2 utility operators and 2 businesses (amongst others) across the Devonshire landscape. 
David Sargeant also reminded us of Fredric Jameson's assertion that 'it is [now] easier to imagine the end of the world than the end of capitalism', but the message that came across throughout the event was in stark variation from the dystopian narratives that characterise a lot of climate coverage. Instead, community and interpersonal connection is leading us to reconsider how we can move forward, whilst not forgetting that the system which led us here is still deeply entrenched and active. 
As Pauline Rutter's presentation about her activism and moving poetry described, the climate crisis is leading us on a journey to deeper personal and relational experiences, decentring consumption and manufacturing practices. Pauline (Artist, Researcher, Poet-in-residence and TCCE Associate) has shared her poems with planning departments, developers and MPs as a form of protest and activism. It is an opus that speaks of detachment – from nature and people, a theme which is also central to Jaime Jackson's biophilic photography. Both are rallying cries against capitalism and systemic injustice, and an incantation for people and developers to 'tread more lightly on this green and pleasant land'. 
Climate Justice
Fehinti Balogun's presentation about his filmed performance 'Can I Live?'  spoke powerfully to the theme of climate justice and cross-sectional inequalities, reminding us that the industrial revolution and the mass Co2 emissions it initiated was only made possible by colonialism and slavery. 'Can I Live?' is an award-winning ACE-funded performance that situates the climate emergency as 'modern colonialism' and asks; who is responsible for global warming, who bears the burden of the fallout from dirty environmental practices, and what can be done to protect people and places that are at risk and make amends for past harm?(1) Balogan's community campaigning and organising is empowering people across the UK to become climate activists, to envision the climate crisis as a class crisis – one which can be resisted.
Empowerment and agency is also a central theme of Dr Neelam Raina's work, who's presentation described the multifaceted fragility experienced by women across the global south who are on the front line of the climate emergency. A huge body of knowledge about how best to mitigate climate disasters is held within these communities of women, and Dr Raina has been working with them to develop collaborations that go beyond our usual understanding of the word, to facilitate indigenous knowledge rather than extracting it, with a view to creating solution pathways. 
Indigenous knowledge and Communication
The importance of moving back towards indigenous or ancient knowledge also came through in Anne-Marie Culhane's presentation about collaborative environmental initiatives and art events across the UK, such as Flow which has reimagined the Environment Agency's planting scheme along the Riverside Valley park along the River Exe, creating a ribbon orchard along the site to enhance the habitat for pollinators and foragers human and non-human. Participants took part in traditional wassails and tree processions, reconnecting with the ancient understanding of trees as sentient beings. 
The final panel of the day spoke to the importance of communication and letting go – of sharing academic research and letting it be interpreted artistically. Sophie Laggan's presentation about redistributing power in net zero transmission highlighted the importance of inclusive communication; of the need to include everyone in collaborative work, because as individuals we only possess partial knowledge and incomplete solutions. Many other speakers acknowledged the need for inclusive communication and co-creation as a reciprocal process. Dr Linda France, Climate Writer in Residence for New Writing North and Newcastle University, described how a compassionate writing practice has developed within that community, facilitating expression about ecological layers and cultivating qualities of kindness and ethics of care. If creative writing can help us respond to the climate emergency by creating empathy and understanding, Stephen Bennett described how artistic practice can contribute to and inform policy-making by creating embodied affect in the face of overwhelming apathy. Animating the pathway from academic research to policy through creative practice was also explored by Professor Roberta Mock and Rachael Duthie (Theatre Alibi), who have been working together to implement the sustainable manifesto of the Theatre Green Books.
The programme was rich and varied and we would like to express our deepest thanks to all of the speakers for such an inspiring and thought-provoking day. The event was able to highlight an array of collaborative cultural and academic projects which are all looking to the future not as a dystopia, but as a hopeful place where we may be able to reconnect to community and local knowledge, to creativity, to each other and to nature. 
Culture and Collaborations on Climate Emergency was held on June 23rd. It was curated by Evelyn Wilson (NCACE Co-Director) with production and research support from Justine Kenyon, Queen Mary, UoL.
Photo by Mika Baumeister on Unsplash