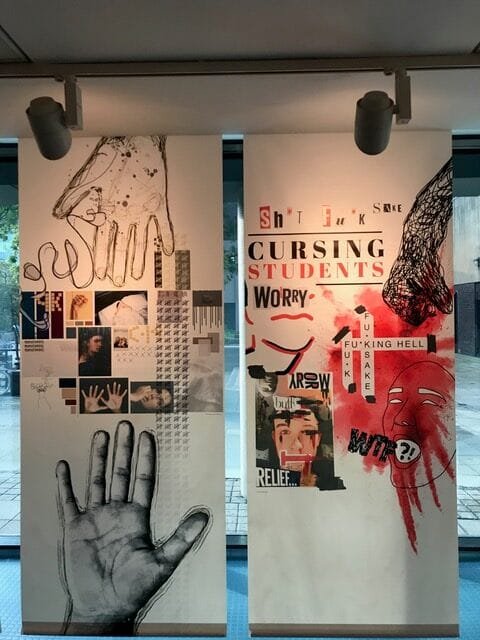 By March 2020 the United Kingdom was in lockdown, as a pandemic swept the world. By Summer 2020, A-Level exams had been cancelled. By August algorithmic grades were announced, swiftly followed by a set of teacher grades. Places were secured, or offered, at universities, accommodation was sorted, hopes were high; daily Covid-19 cases were down to near 180. Some sense of normality could return to this group of young people starting university.
In September 2020, we were preparing for our new intake of Graphic Design Freshers. All our teaching spaces had been assessed for safe space numbers. Clinical disinfecting wipes were a feature in every room on every table, we had hand sanitiser stations, new directional signs, and all windows were open; it was an environment well thought through, and mitigated against Covid.
Unfortunately, by mid-September, there were over 7,000 positive covid cases a day. NHS tracker app's were pinging, informing many to isolate, and almost immediately, we were delivering remotely. Again. Freshers week was not going to be as hoped, or planned.
Our first year semester 1 delivery is an intense period, with weekly workshops, and multiple quick fire projects. Normally a physically demanding, collaborative, collegiate, and great fun 12 weeks. We hadn't been fully blind to the possibility of moving this online, and we did have plan B's to try to emulate the excitement and engagement remotely, which we very swiftly put into action.
Many of our cohort were in Halls of residence, and unable to leave. We asked them to document their days, and really look at what this time of global pandemic meant to them, as a student. A moment in their lives like no other Freshers student experience before, and hopefully again.
This project started very much as a two way process, with interaction and listening carefully and sensitively to the 'stories' of the student group. Ideas were tested and shared, discussed and designed to reflect  an honest representation of a very specific period in time. Using sensory portrait making and data collection as a means of sharing, often, difficult messages; exploring isolation, wellbeing, anger and hope. The idea behind it was to enhance students own engagement skills and positively impact on their own wellbeing.
Our pandemic world and online lecture/tutorial delivery became the norm for their first year at University. As time moved forward into the new year, 2021, it seemed a shame to allow the documentation of that time, that the students had produced, to go unseen by a wider audience. A small amount of funding was secured, and an exhibition was arranged for the space on Campus at Northumbria University, Gallery North. It proactively included students in shaping their own University story, an insight which was then shared between the university and wider society through this exhibition.
During this time of collaborative working and producing responses, we had small on-line group tutorial sessions, which occasionally felt therapeutic in tone, with discussion of subjects far and wide - the bins, the lack of smell, too much smell, no taste, the takeaways delivered to doors, the drinking games, the love of playing cards, new flat mates, dreams of touching door handles, an obsession with Iron Bru. It was endless and fascinating. From mundane to bizarre revelations, from the highs to the lows. An amusing observational study from one group of students isolating for ten days, showed them eating a total of 120 pasta dishes over the period, which as the days ticked on, became more inventive and positively recherché! In the exhibition is was depicted as a large 1m tangle of spaghetti, also hinting at the confusion of the time and finding their way out of it. It connected the whole group in unity during this strange chapter. They felt they were not alone, they hadn't been left. They shared and we laughed together, we were horrified together, and although apart, they were together and supportive of each other's experience.
As the subject was complex and challenging we developed a story to create meaningful engaging narrative for the public audience visiting the gallery. Generating mutual benefit, in the students being heard and seen, and the public empathy and understanding of their unique time.
We communicated the cohorts response and reactions to being a new undergraduate in a pandemic, with all the feelings and emotion of that moment in time. The exhibition included a 'speaking wall', using words from interviews with students, there was a short film made in a Halls Of Residence, creating sound reminders of long days indoors (dripping taps), and we had a huge installation of bagged up rubbish - many students said they knew they were getting over covid when they could smell the bins again!
In September 2021, during Freshers week, we opened at Gallery North, at Northumbria University. Exactly one year on from a very different kind of Freshers week.
The exhibition was an effective way of showing and sharing the results of this work through accessible design solutions. The gallery opened from noon to 4.30pm every day, and in the first week we had 337 public visitors. Real three dimensional people, visiting in person.
If you want to know 100 different ways to cook pasta in a pandemic, please contact Vic Newton vic.newton@northumbria.ac.uk.
Image credit: Vic Newton